When it comes to anything related to electrical work, ABC Remodelers is best known as the leading service provider of electrical services throughout the Chicagoland area!  Our electricians are licensed, insured and bonded to properly carry out electrical work in homes and new construction.  We provide professional electrical, remodeling and cleaning services to area residents!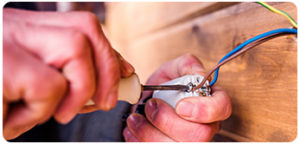 For over a decade, ABC Remodelers has been providing area homes quality electrical service for all lighting types and sizes of lighting, ceiling fan installation, wiring in basements, TV mounting, breaker box repair or replacements and much more. When it comes to electricians in the Chicagoland area, you can't beat the professionalism and skills of ABC Remodelers.
You don't want to risk a serious injury while handling electrical wiring yourself, it is best to have a licensed electrician handle your wires for you to avoid harm to yourself, a loved one or to your home.  We offer professional electrical services that are affordable!
When area residents need electrical work, lighting installed, outlets moved or even a ceiling fan installed, they know to call the area's top service provider – ABC Remodelers.  Our contractors are not only professional but they offer high quality work, too.  No matter what, we will go the extra mile to make sure you are completely satisfied with our work.