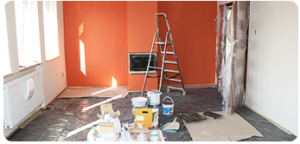 When it comes to interior painting, ABC Remodelers is known as the Chicagoland leader in interior painting!  Our interior paint remodelers are professionals and skilled in providing what you want at the most cost-effective prices.  We provide professional interior remodeling service while using premium paints like Benjamin Moore and Sherwin Williams to ensure the paint will last a long time!
When someone visits your home, the interior of the home is their first impression they walk in the door.  Wouldn't it make sense to have your walls looking like you just moved in?  Something as simple as a new coat of quality interior paint can beautify the inside of your home.  Enhancing the inside of your home will also boost its overall value.
Our customers tend to pick ABC Remodelers not only because of our superb quality work, but also mainly because of our professionalism, trustworthiness and compassion towards them.  Total customer satisfaction is our top priority, and we will take the extra mile to ensure you are totally satisfied with our interior remodeling work.