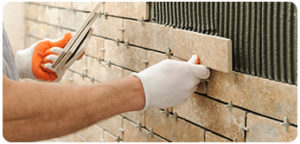 Beautifully-designed and installed tiles will enhance any bathroom, kitchen or foyer while increasing the home's worth.  ABC Remodelers provides homeowners a wide-section of premium tiles to match any décor.  When looking for the best tile, ABC Remodelers is regarded as the Chicagoland area's most affordable home remodeler of tile installation.
Our professionals are skilled in helping you select the most complimenting tiles for your room while staying within your budget.  We offer tiles for the kitchen backsplash, shower tiles, floor tiles, bathroom tiles and entire wall tiles.  Some of our most popular styles include stone tiles and mosaic tiles as well as a variety of ceramic tiles.
 Adding new tiles is an affordable option to give a room a new look while staying within budget.  When anyone visits your home, they will take notice of your new tiles and be envious.  Wouldn't it make sense to upgrade the tiles and make your home appear like it is new on the inside again?  Something as simple as replacing tiles can easily beautify the inside of your home.
ABC Remodelers is the top choice for our customers not only because of our superior workmanship, but also because of our skills and professionalism.  Customer satisfaction is always our top priority, and we will do what is necessary to make certain you are satisfied with the tile installation.