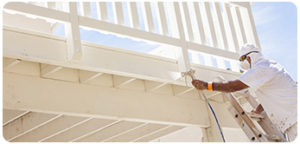 ABC Remodelers is regarded as the leader when it comes to exterior painting in the Chicago and the surrounding suburbs!  Our exterior home remodelers are skilled in delivering exactly what you want for your home at the most reasonable prices.  We provide professional service while using premium paints and other materials to ensure your home will not only look its best, but its new appearance will last a long time!
When anyone drives past, walks past or visits your home, the exterior of your home will be their first impression.  Wouldn't it make sense to have the best curb appeal?  Something as simple as a new coat of exterior paint can dramatically enhance the outside look of your home.  Furthermore, improving the exterior of your home will increase the home's over all worth.
Our customers tend to choose ABC Remodelers not only because of our premium quality work, but also because of our professionalism and compassion towards them.  Complete customer satisfaction is our main priority, and we will go the extra mile to make sure you are completely satisfied with our work.